It is with great pleasure that I now announce the four paintings at Bjertorp Slott in Vara, Sweden, completed. The paintings have been over two years in the making, and have been an absolute joy to create (combined with creative angst and frustration, as is protocol). These paintings will now hang permanently at Bjertorp Castle in the music hall, from now on nicknamed the Klingspor Room.
Bjertorp Castle was created by architect Ferdinand Boberg in the beginning of the 20th centrury, and is today a hotel. If you wish to see the paintings in person, please contact Bjertorp.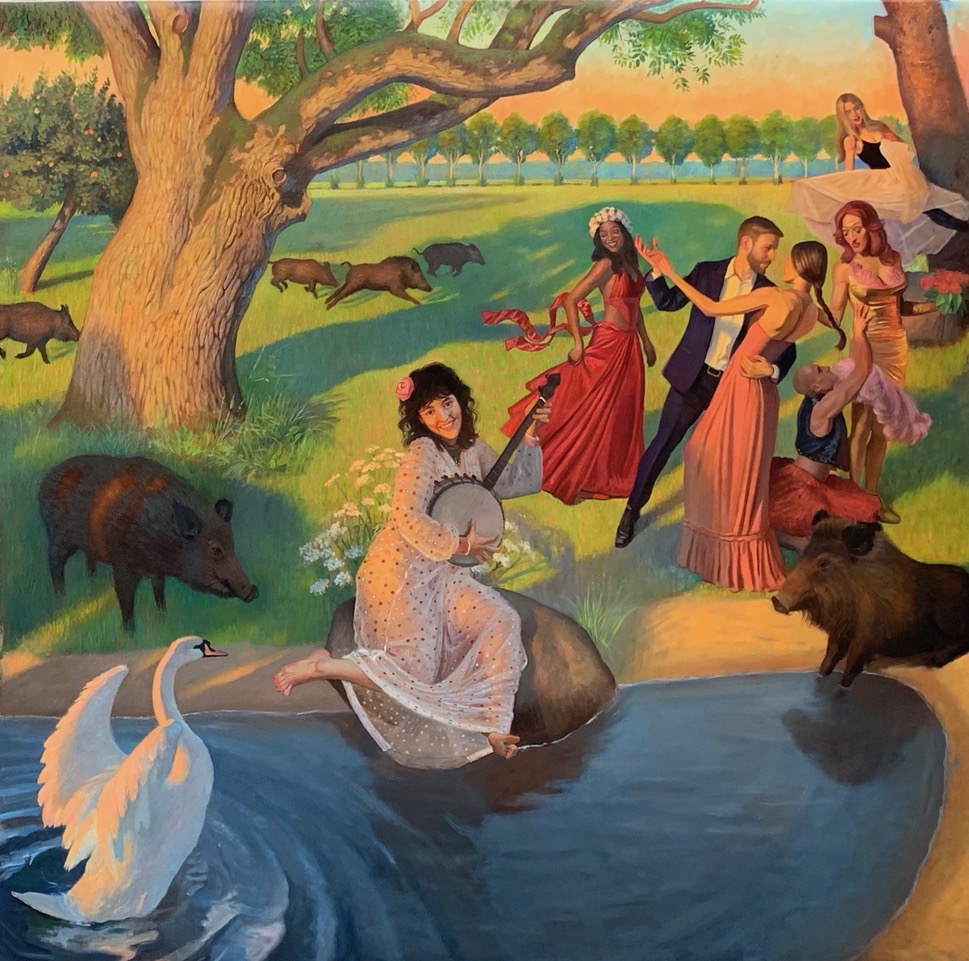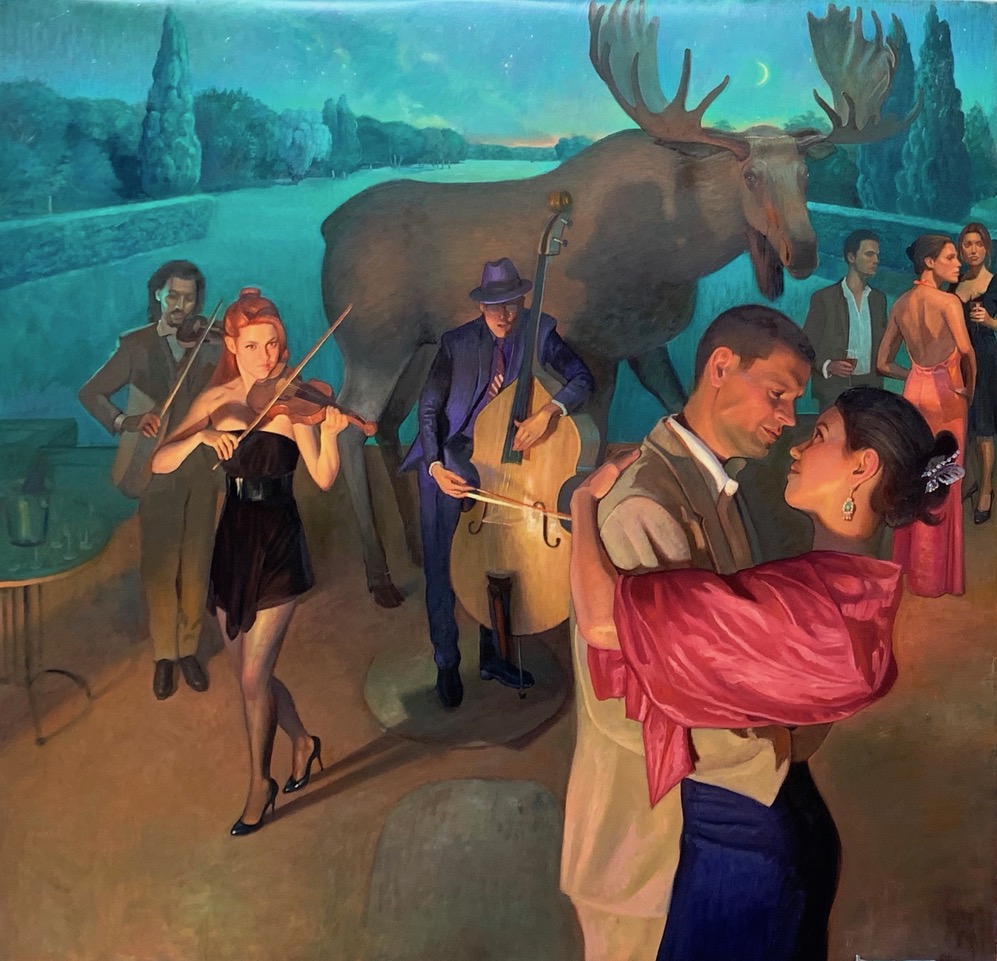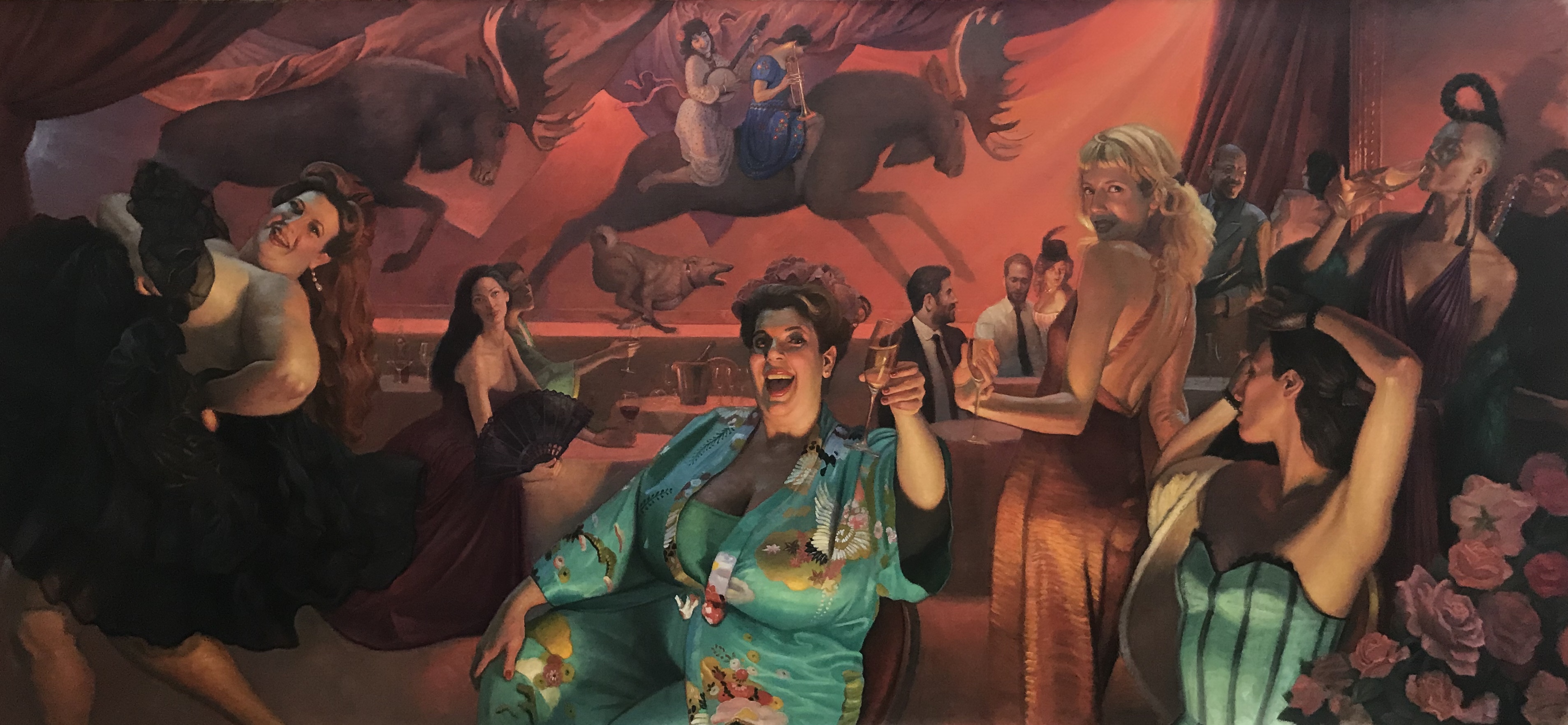 I feel very honoured to have created four paintings for Bjertorp Slott.
This Art Noveau castle was created by legendary Swedish architect Ferdinand Boberg for businessman Knut Henrik Littorin in the beginning of the 20th century. Mr Littorin spared no expenses and also let Ferdinand Boberg design all the interior and the furniture of the castle.
Therefore, I felt it was no small task to take on such a commission considering the already existing aesthetics in the building. When I started my talks with the current owner of Bjertorp Castle, Svante Andersson, he had a clear idea where the paintings would hang, namely in the Music Room. This room was originally designed for musical performances at the castle, and thus the theme for the paintings came naturally; Music, party, and – hunting. The last element was not something I'd previously depicted in my dinner scenes, but I have always included animal parts as a reflection to what we humans consume. So, I welcomed the idea and took on the challenge of depicting the hunt in these four party scenes dedicated specifically to the Music Room.
It took me over two years to complete the quartet of canvases, as the compositions, colour palettes, and the overall theme had to be in sync with the entire room and work as a whole.
The result became four playful, slightly surreal paintings celebrating life and prosperity. They feature many of my New York burlesque and performance models mingling, riding, and celebrating with the animals on the estate of Bjertorp Slott; Moose, Fallow Deer, Pheasant, and Wild Boar. In the paintings, the party starts in the evening, pass over to night and finally into a new dawn. During this time, the party moves from indoors to outdoors, where actual details of the castle garden and trees have been incorporated in the background. Today the Music Room functions as part of the restaurant and for special occasions such as weddings and private events. If you visit the castle you will be able to see the works in person.